Alrighty! Let's get to it, shall we? I saw parts of 10 different matches today! Whew!
I started out on the grandstand, watching Wesley Moodie take on young American Ryan Sweeting. Sweeting was here last year, as well, and made it into the second round if I remember correctly. Moodie was here last year as well, and made a great run with some exciting matches.
Sweeting had quite the teenage fan club in the audience...I guess he is a bit of a hearthrob.
Moodie, as to be expected, served big and found opportunities to come to the net often.
Moodie's maturity and experience won out, as he took out Sweeting in a routine 6-3, 6-4 match. I sat at the top of the grandstand, which also gave me a view into court 2. Michael Berrer of Germany was taking on Swiss qualifier George Bastl. I didn't pay too much attention to the match, but Berrer won.
t was time to head into the stadium to watch Tim face young American, NCAA singles runner-up John Isner. Tim had already won the first set by the time I got there. After watching a bit, I realized that they had similar games...big serve, lots of rushing the net. The match was actually...kinda boring. Short points, lots of errors.
Isner is really tall:
When Tim lost the second set, I kind of thought 'Oh, he isn't playing 100 percent...he'll take care of business in the third set.' And I left...yes, that's right. I didn't watch the third set that was ultimately won by Isner in a tiebreak. Unbelievable! Bye Tim!
I left that match to return to the grandstand to watch Igor Kunitsyn battle Hyung-Taik Lee. Lee had a lot of crowd support. This was an entertaining match! Lee had a break in the first set, and several set points, but Kunitsyn held him off to take that first set 8-6 in a tiebreak.
Kunitsyn: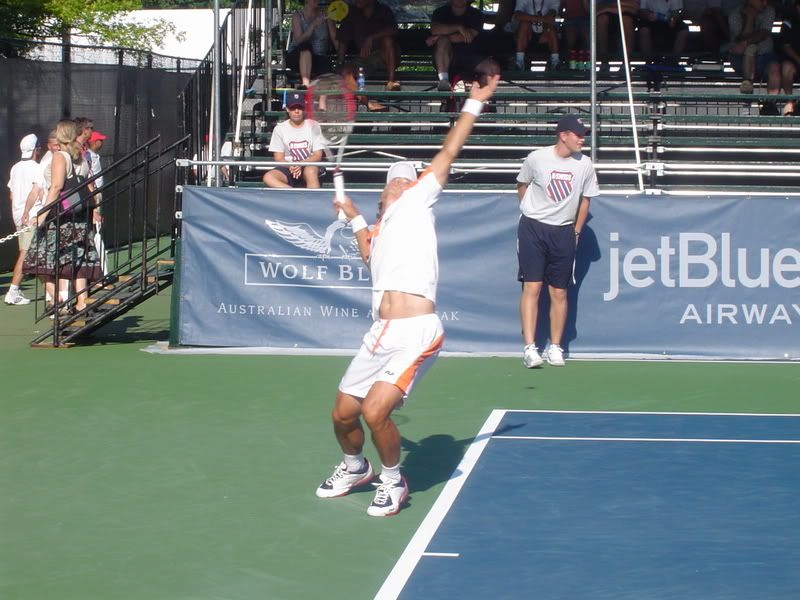 My favorite action shots of the day were of Lee: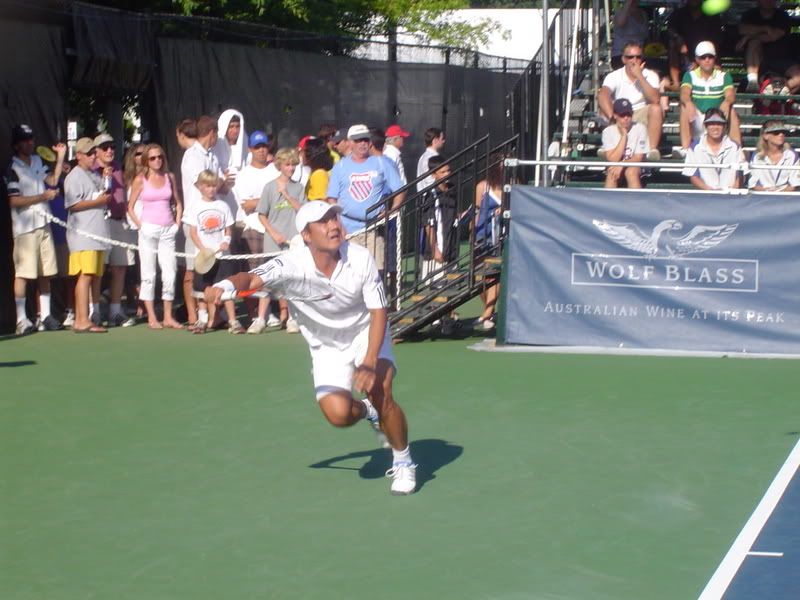 After the first set, I went back into the stadium court, but Lee prevailed in three sets, 6-7, 6-something, 6-1. It appears that Kunitsyn kind of faded, which after his marathon match with Grosjean yesterday, is not entirely surprising. But, he was fun to watch, and I hope he comes back and plays here again.
During all this switching back and forth, I usually go around the grounds and check out the practice courts and the women's matches. Nothing too exciting was happening with the ladies today, and I did see Roddick warming up on the practice courts, but didn't get a good picture.
Also, I highly recommend the strawberry lemonade stand...YUM!
Back to the tennis...Isner's conquerer in the NCAA final, Somdev Dev Varman, was playing hometown boy Paul Goldstein on center court. Goldstein squeaked out the first set 6-4 with one break. Gotta give credit to Goldstein, somehow he won this match by playing at least 6 feet behind the baseline. Dev Varman was either inside or on the baseline, but just misfired too often and Goldstein's excellent defense was the different IMO. Goldstein wrapped up the match by taking the second set 6-2. It is ironic, I think, that Dev Varman had to battle through qualifying and loses in the first round, while Isner ends up with Gonzo's wild card and a huge first round win!
Next match up...ANDY RODDICK!!! (insert sounds of squealing girls) I'm not Andy's biggest fan, not by a long shot, but even I thought this match would not be too much of a challenge for him.
Andy did keep the crowd waiting for his entrance. Tomas Zib was announced and walked out. Andy was announced and......and.....at this point I was wondering if he was taking a last minute bathroom break after what happened last week! But Andy did finally take to the court and Lars Graf got things started: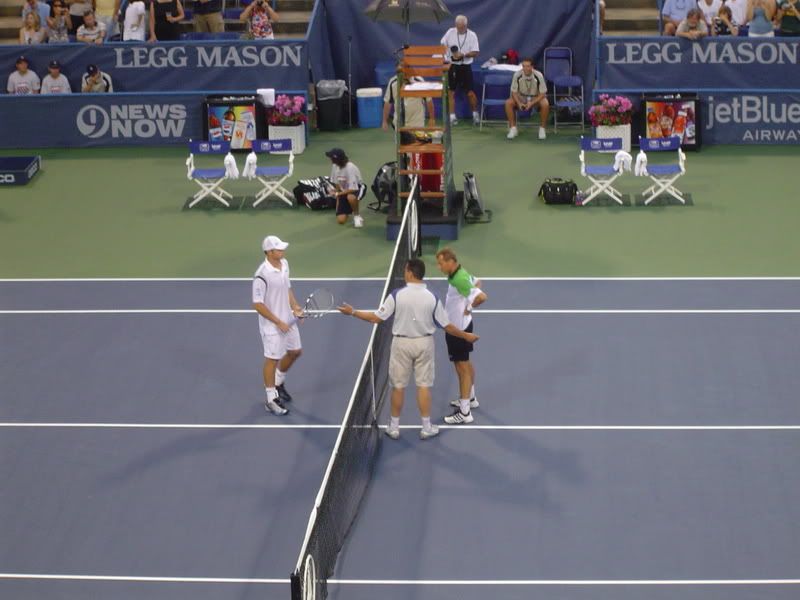 The Roddick serve: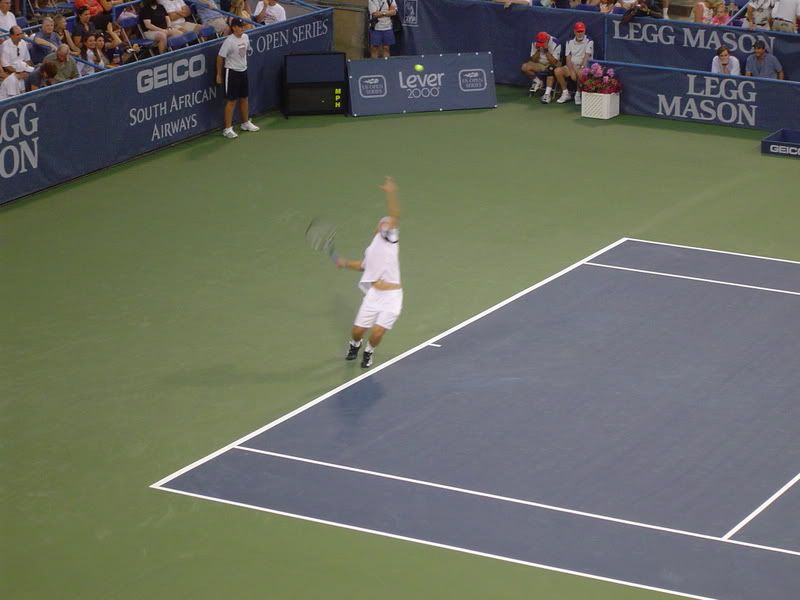 Andy took the first set 6-4 with one break of serve. He got an early break in the third set, and then I left for a more exciting match.
Monfils!!! Monfils!!! Now, this was a guy I was excited to see play here in DC! He was playing Martin Klizan and squeaked out the first set 7-6 and was on serve in the second when I got there. Monfils got a break, but was immedidately broken back. Monfils broke again, and was able to hold onto this one to take the second set 6-4. Monfils threw in a bunch of double faults at baaaad times...a sign of not quite being mentally strong enough?
By this time, I needed a flash to get real good pictures, and we're not supposed to take flash photography during the match, so the action shots are not so good, if I even tried to take any. Here's the handshake at the end of the match, with Monfils pulling in the win:
I stayed on the grandstand to watch our NCAA heroes, Isner and Dev Varman, team up in doubles. Unfortunately, they drew #2 seeds Leander Paes and Martin Damm. Notice the varying heights in this picture:
Leander Paes is one of my favorite doubles players, and he didn't disappoint. I'm convinced that he has the best hands on the doubles tour, bar none! He got volleys back that were IMPOSSIBLE!!! He's a flashy player, and so much fun to watch. He told Damm to 'make some noise up there' at the net before one point. Hee, hee! They broke Somdev easily, and while I don't remember the score, I know Isner and Dev Varman didn force them to a 'champion's tiebreak' which Paes and Damm won. Good for the youngins making them work for it, though!
On the next court, Michael LLodra was desparately trying to stay in his match with Robin Haase. Llodra dropped the first set, and when I left they were 6 all in a second set tiebreak, and Llodra was trying to recover from a tiff he had with a line judge that resulted in the referee being called by the chair. I have no idea what happened, though! When I saw that Clement and Llodra were both coming to DC, I had hoped that they would have teamed up for doubles as well, and I'm surprised and a bit disappointed that they did not.
And finally...back into the stadium for Safin's match against Jan Hernych. Safin had already won the first set 6-2 won I walked in. I got a great seat since a lot of people left after that first set. But me, I know better, and Safin did not disappoint. He could not clear the net to save his life in the second set, and, breaking a racquet on the way, was on the losing end of the same score he posted in the first set. DC loves Safin, and really tried to pump him up for the final set. It worked, and he took it 6-2. He was like a new guy, bombing aces and really cutting down on the errors. Hernych put up a good fight, but it was not to be for him today. Safin wins 6-2, 2-6, 6-2. The hand shake: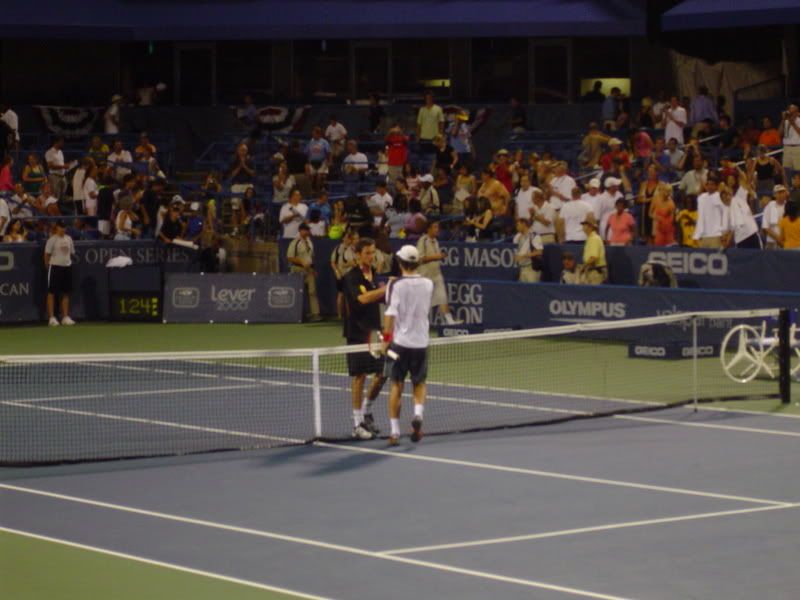 Safin is definitely quirky on the court. When serving, he had one ball in his hand, and gesturing for another from the ball boy. He would take that ball and bounce it to the other ball boy. He would repeat until that ball boy didn't have any left and serve with the ball he had in the first place!!! He showed off plenty of soccer moves, too.
All right kids...that's all for day 4!