This day deserved a sub-title! A very full day, thanks to yesterday's rain, and lots of action going on!
I started off with a women's match, the first round of the ITF $75,000 tournament. I chose to watch Angela Haynes get her but *kicked* by Kristina Brandi. And man, I really didn't think it was going to be a blowout, but Brandi was just bossing her all over that court. Haynes looked a bit slow.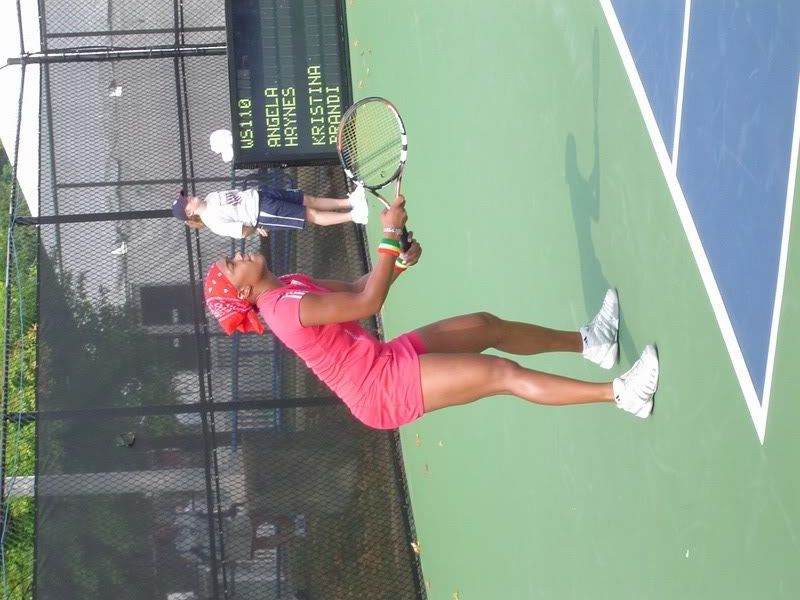 I only stayed for the first set, but later saw that Brandi won 6-0, 6-2.
Then I walked around a bit, and was watching another women's match from outside the fence, on match court 3 (Montinee Tangphong vs. Alina Jidkova...Tangphong hits a really clean ball), when behind a man suddenly started jerking around. Turns out he got stuck by a wasp...and there was a voice, with a German accent, asking the man if he was ok. The voice belonged to...Tommy Haas!!! That's the nice thing about this tournament, you can be just minding your own business, and then boom! There's Haas not three feet from you!
He was getting ready to practice:
That was my first close encounter.
I wandered back over to the grandstand, mostly because a friend of mine was being a ball kid (she's in her 30s!). And I got to catch the last three games of Somdev Dev Varman (our current NCAA singles champ) *schooling* Andre Sa! Holy crap! This kid is GOOD!!! Sa didn't know what hit him!
I stayed on the grandstand for the next match as well...Greek Konstantinos Economidis vs. Martin Klizan (from the Ukraine? I don't' remember). You can't tell, but Economidis has an eyebrow ring! He looked in control for the first few games:
My favorite shot of the day...Klizan in action: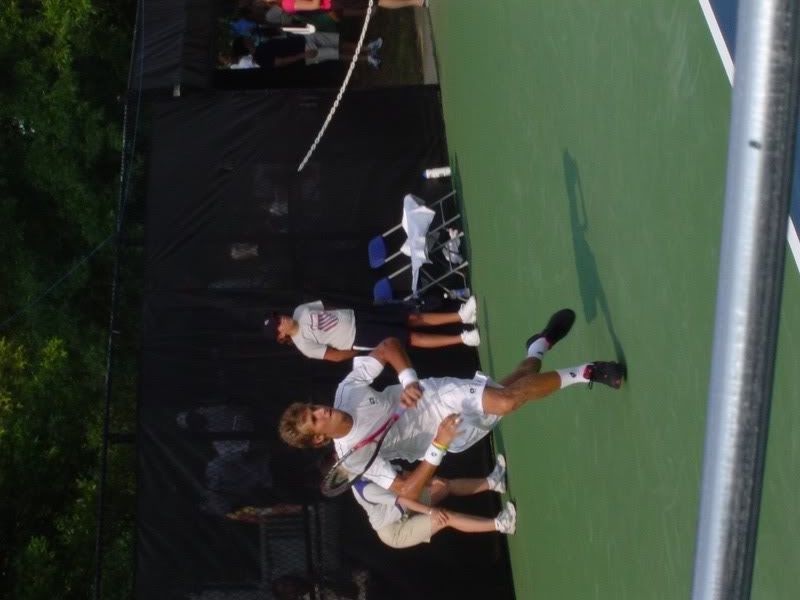 I didn't stick around for the end, but I think Klizan ended up winning. If that is correct, I'm a bit surprised from what I saw, but maybe he just had a slow start.
By this time, I headed to the stadium, thinking that Kunitsyn and Grosjean would have started. But no, they were *still* playing out the end of the Johansson/Giraldo match!!! Turns out they split tiebreak sets, and I did get there in time to see Johansson break and hold to take the match.
That brought on Igor Kunitsyn and Sebastian Grosjean:
I was thinking Grosjean would take this one, but that it would be close. I was right on one account. It was close...it was LONG! The first three games took almost 25 minutes! After the first set (Grosjean won it in a tiebreak I think...I can't remember), I decided to go back to court 2 to see if Stretch and Booty had started playing yet.
And indeed, Jamie Murray/Eric Butorac had just started their match against Wesley Moodie/Todd Perry. This match was put on a small side court, and while that meant it was packed, I was able to snag a FRONT ROW seat, and I was literally sitting ON THE COURT!
I got hit with a ball that richocheted off of Moodie's shoe!
Jamie Murray, after hitting a great BH angled volley, almost ended up in my lap!
I did get another ball, but instead of hording it decided to give it back to the ball boy.
Perry/Moodie: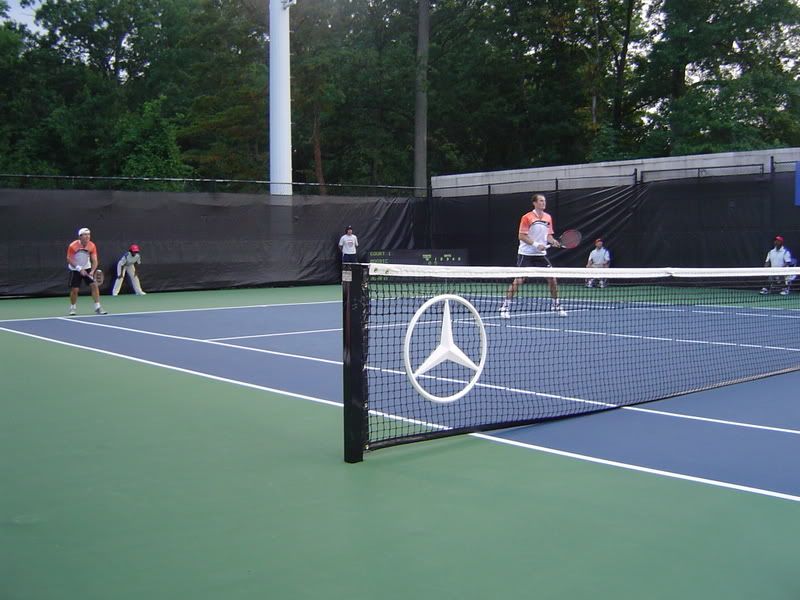 This was a GREAT match. It really should have at least been put on the grandstand, but the doubles field here this year is really deep! Lots of great teams here to watch! Moodie/Perry won the first set in a tie break. Murray/Butorac stormed through the second 6-2. Unfortunately, just a few sloppy points in the champion's tiebreak ended the tournament for Stretch and Booty, as Moodie/Perry are through. Though, if Perry doesn't start serving more consistently, they won't be around for long!
So now I headed back to the stadium, thinking that the Henman doubles match would have started. But no...because Kunitsyn won the second set, and they were on serve in the third when I got back to my seat! Unbelievable! This match lasted just short of three hours. Kunitsyn broke Grosjean once in the last set, and that was it...the Frenchman faded.
I spotted a friend, and decided to move down to the box seats to watch Henman and Bhupathi take on Michael Russell and Hyung-Taik Lee. While watching the match, I look to my left, and hey...there's Paul Annacone!!! (no i didn't take a picture of him...but I was tempted...it would have been way to obvious).
Russell puts away a forehand volley: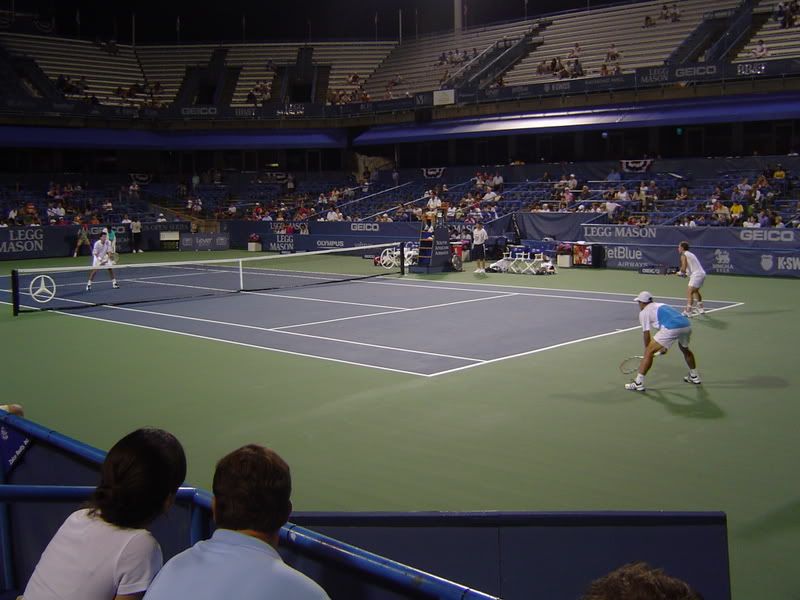 Henman's serve: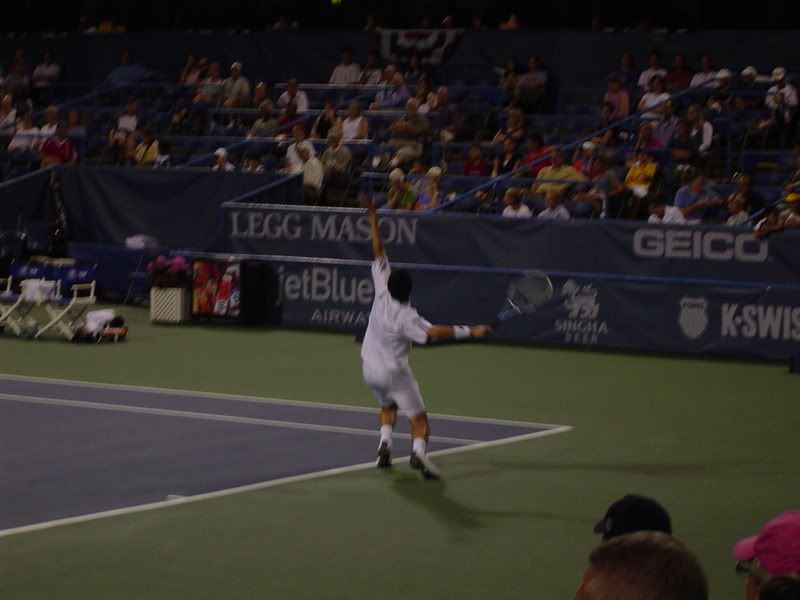 The match had some great, entertaining points, but Lee/Russell were outmatched, and I don't remember the score, but it wasn't close. They all looked like they had fun, though.
The last match of the night, which ended up starting at about 10:30, was Robert Kenrick vs. Alejandro Falla. Falla pulled through, though I did not stay to watch.