A day of upsets, but not necessarily where you thought they might happen.
Becker was warming up with Kunitsyn on court #1...a good place for him to be since his singles and doubles matches were both scheduled to be on #1.
While I was walking around I saw Stepanek running around the complex, warming up for his match against Paul Goldstein. He ducked into the grandstand to run, jog, and do some footwork.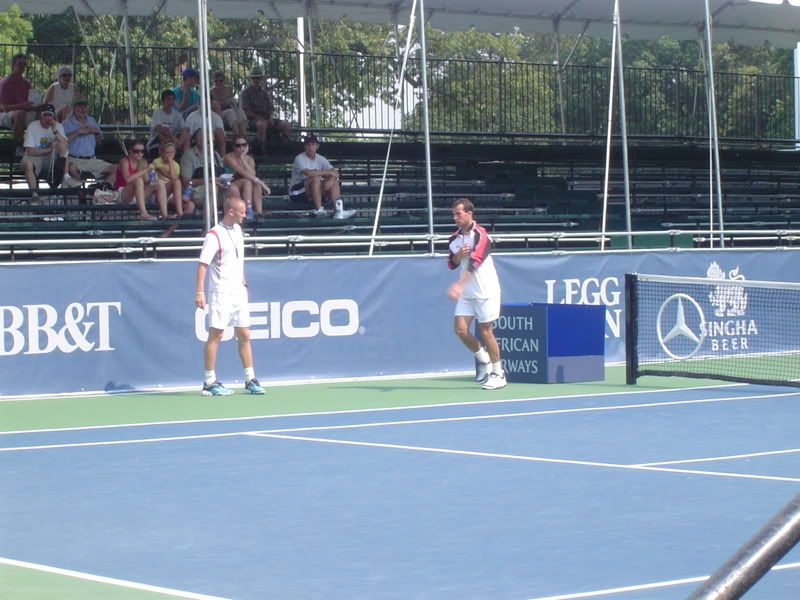 I started out on the court #1 with Korolev and Karlovic! The battle of the K's! I wasn't sure what to expect, as I was unaware of their previous matches. Well, I did know to expect huge serving from Karlovic, and that is just what he delivered. His forehand was also pretty smoking, and he just wasn't missing any volleys.
The giant serve: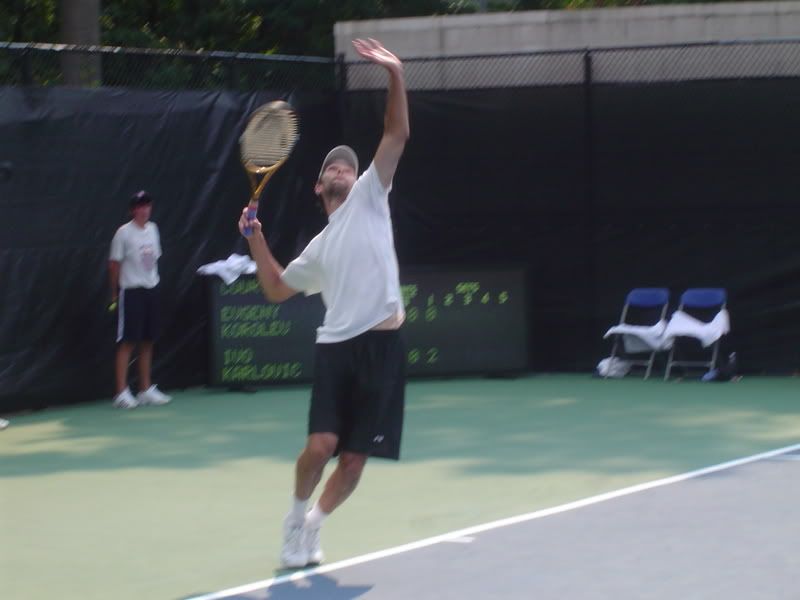 Korolev in action:
Korolev started the match in good spirits...he was smiling and bouncing around. But, he just kind of got rolled over, and the match was a short one compared to some of the other dogfights we've seen so far. Dr. Ivo advances 6-3, 6-3.
After the first set of K-K, I left for the Spadea match. I saw Spadea play several times last year, and I was impressed with his game. He works hard on every point, and his 2HBH is really beautiful. He is also the only player I've heard that says "Thanks." to the ball kids. His fashion was a bit tame today, but his fighting spirit kept him in the match, and he took it in two tiebreak sets from Wesley Moodie:
Spadea: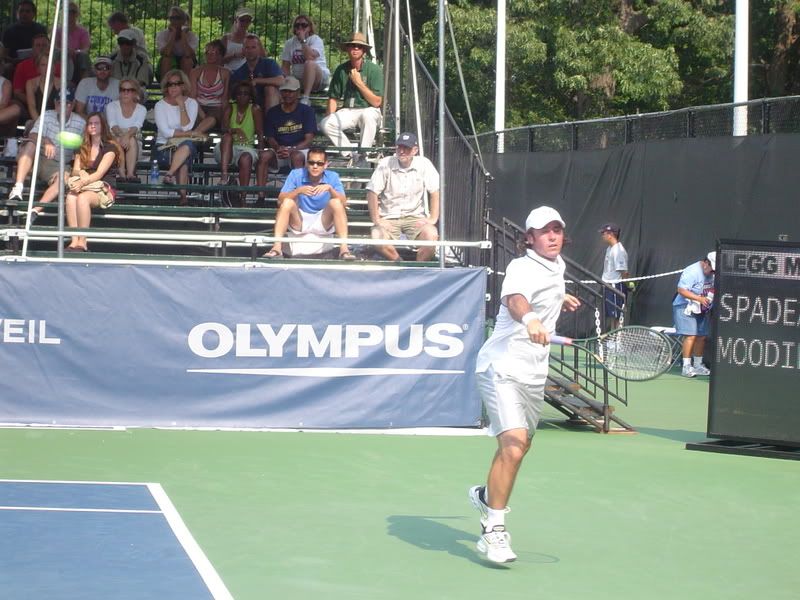 Oh, and yeah, that Isner kid played again. Have I mentioned that he is on the tall side?
I scooted back over to watch the beginning of his match with Becker. In that first set, Becker was booming his serve, and really didn't have much trouble with Isner. It seemed a bit like Isner's match with Henman the other day...a routine win for the opponent, and then Isner starts creeping back and snatches it away the last moment. Maybe he is a slow starter?
Becker: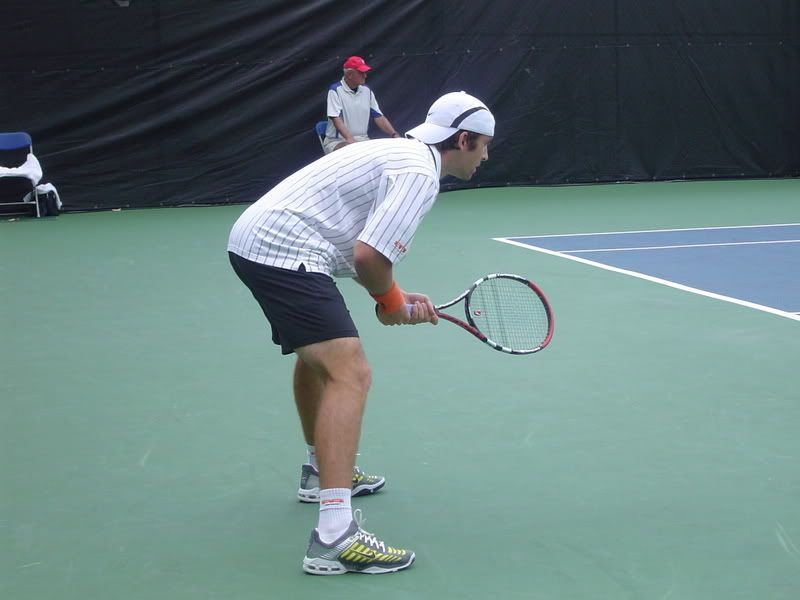 On these outside courts, they flash the other scores during changeovers. I was keeping an eye on court #2, where it looked like Del Potro was going to have a routine victory, but he couldn't close out that second set against qualifier Wayne Odesnik. So I meandered on over there for a bit...
(Yes, this means I DID NOT STAY for the rest of the Isner match. If you had seen the first set, you wouldn't have stayed either...it was a routine 6-3 win for Becker, and I know no reason to think Isner was going to do what he did...but at least I got a good look at his next round opponent!)
Wayne Odesnik was a qualifier. I expected him to lose to Del Potro, the #10 seed at this tournament. I know everyone keeps talking about how big Isner and Karlovic are, but Juan Martin is right there with them!
dPotro had the break in the second set, I think maybe even two of them. But slowly and surely, Odesnik clawed his way to a second set tiebreak, which he won 12-10!!! He just did not give up! And it was obvious that he was just having a lot of fun, he was smiling and laughing...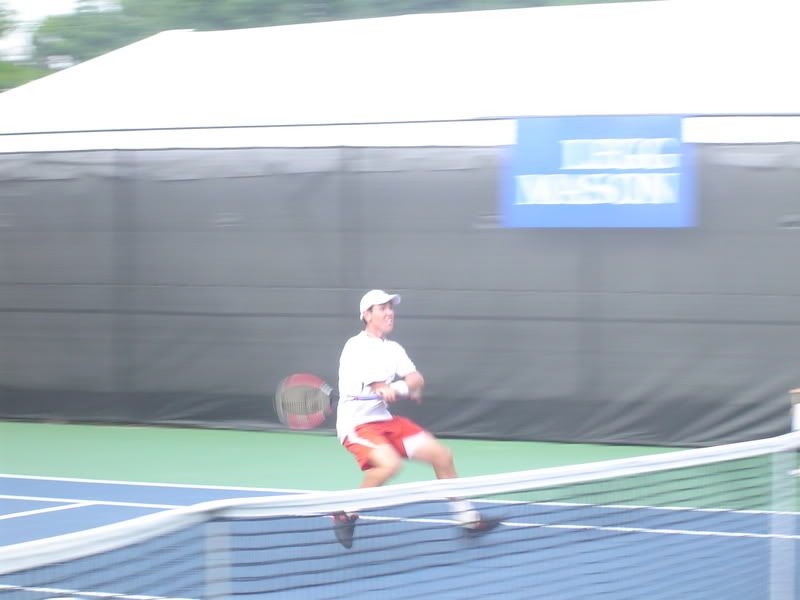 dPotro took a bathroom break after the second set, and the trainer was even on court for a while, but he wasn't treated. While dP was in the potty, Odesnik was laughing and talking with the chair. Very relaxed, while dP was quiet and stoic. One break of serve was all it needed, and thought it took a few match points, Odesnik finally took the set and match 6-3.
The hand shake: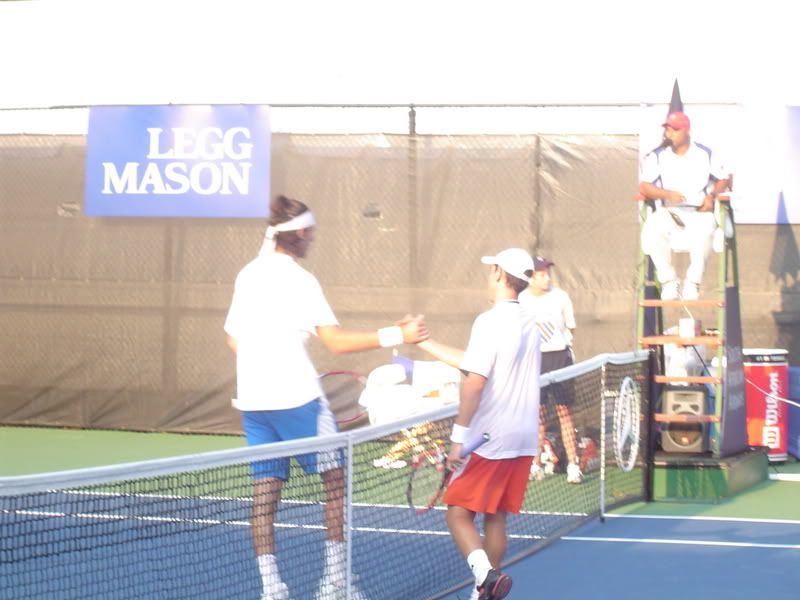 I also stayed for a few games of Julian Benneteau and the Japanese teenage, Kei Nishikori. It ended up as a pretty routine win for Benneteau, but if Nishikori could contain some of his power, we'll see him around. When he hits his shots, they are impressive!
Nishikori: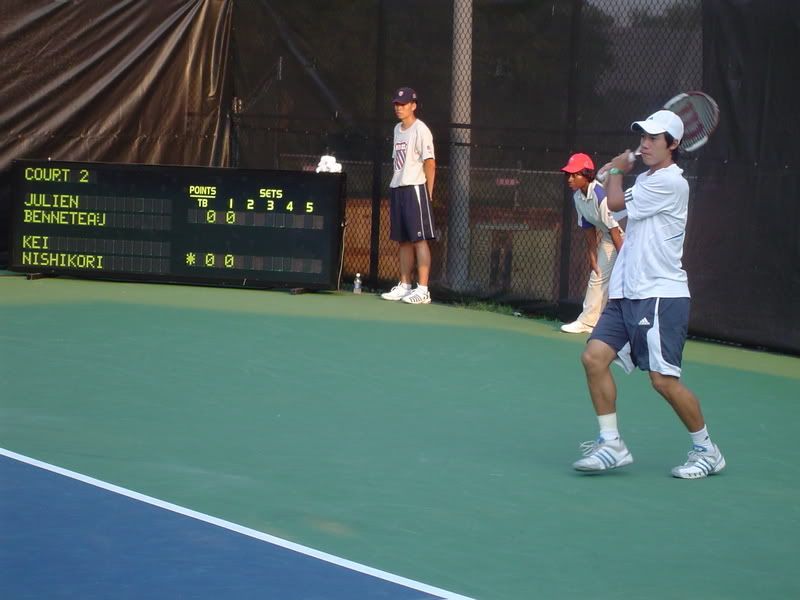 Benneteau: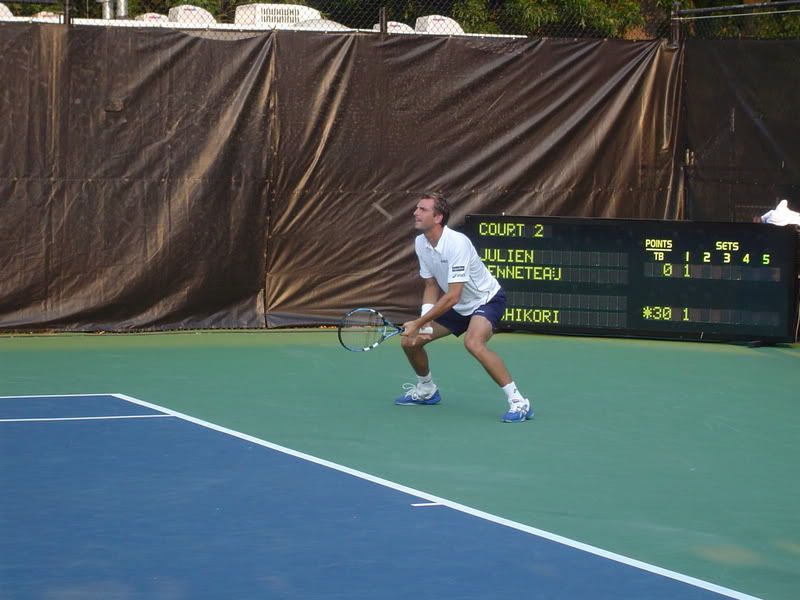 I saw on the scoreboards that Clement and Tojo split sets, so my next destination was center court to see what was going on!Tojo was attacking, and Clement was scrambling all over the court, but it wasn't enough today, and our defending champion was sent home by a former grand slam champ. Not a great draw for Arnaud, and the crowd was sorry to see him go. By now I had relocated in the stadium, because I spotted my friend Megan, who broke her leg about a week before our team went to districts!!! She had a 'special' seat because of her cast, and I went down to join her.
The feature match of the night was a doubles match...nice to see that! It pitted the Bryan Bros. against Paul Goldstein (back on court after losing to Stepanek in 3 earlier) and Tripp Phillips (who I think looks a lot like Hewitt...speaking of Hewitt, why isn't he in DC this year?!?).
While they were warming up, I looked behind us, and Wayne Bryan was right ther in the suite. I nudged Megan, and she hobbled over to have him sign her cast!
This match was routine, and I'm sure it lasted less than an hour. BUT! It was Paul's birthday, and we all sang to him while he was presented with a cake. They also brought his wife and newborn onto court for the occasion.
Ok, I buzzed out back to the grandstand at this point to watch Hanley-Ullyett/Bhupathi-Henman. Han-Ull had won the first set 6-4. I don't remember if I actually saw the end of that set or not, but I was trying to also watch the women's doubles behind me on court #2 at the same time, where Madison Brengle and Kimberly Couts were playing Alina Jidkova and Olga Savchuk.
Anyhoo, Henman's stay in DC is officially over. It was a good match, but they weren't enough for the seasoned team of Han-Ull. Guess who was in the stands watching Henman again, as he had during Henman's match against Isner? Yup, the elder Murray. Nice to see him supporting his 'countryman'.
The handshake: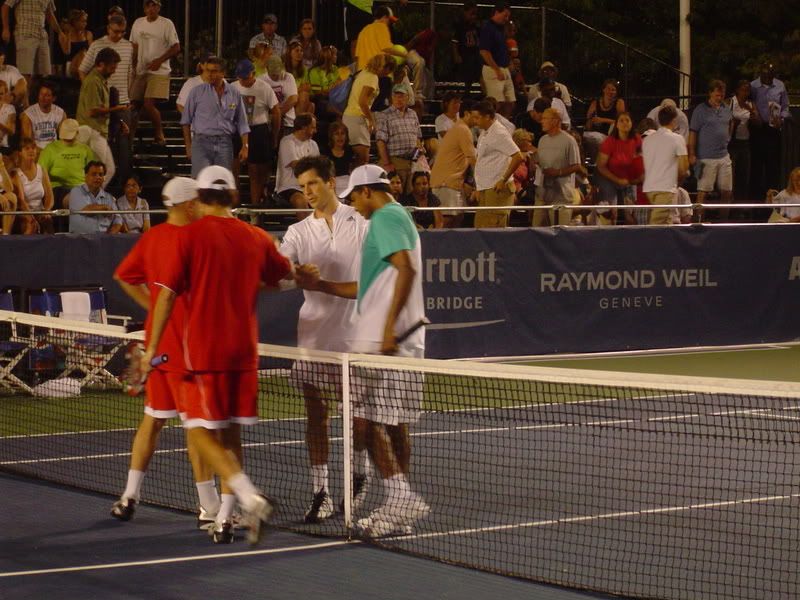 And so it goes...back to the stadium, it was Tommy time! Falla just didn't have enough to put up a fight, and Haas had any easy victory here.
Haas:
That's a warp for day 5, folks!