Part II of the trilogy!
The doubles final got off a bit late, but that didn't bother me a bit since I was over at the grandstand watching the women a bit. When I got to the stadium, the Bryan Bros. and Ehrlich/Ram were on serve, as to be expected.
Every time I watch the Bryans play on TV, whoever is the commentator always mentions how Mike's serve is the more vulnerable of the two. And it showed today, as the Israeli's got up a break in the first set. Ehrlick/Ram have beaten the twins several times, so I was really hoping to see a good, tight match today. However, with Ehrlich/Ram to serve for the first set, it was as if the ghost of Monfils had entered the stadium, and the Bryan Bros. broke back to stay in the match. A first set tiebreak went to the Bryan Brothers.
The second set saw Mike again get broken, and this time the Israelis held on to win the second set. They also seemed to get the best of the twins at the net...just a bit sharper, a bit faster.
So the championship came down to a match tiebreak. The Bryan Bros. got a few mini-breaks, and served for it at 9-6...at that point we saw the best point of the match. A long point filled with volleys, that Ehrlich/Ram eventually won. It was a thrilling point! But the Bryan's had one more matchpoint on their serve, and they closed it out 10-7.
Very classy speeches, and whoever it was from Ehrlich/Ram (I think it was Ram) said (jokingly) "I hate you guys." to the brothers. It was a deep field of doubles this week, and the twins did well to get through and claim what I think is their third Legg Mason title.
The Bryan Brothers: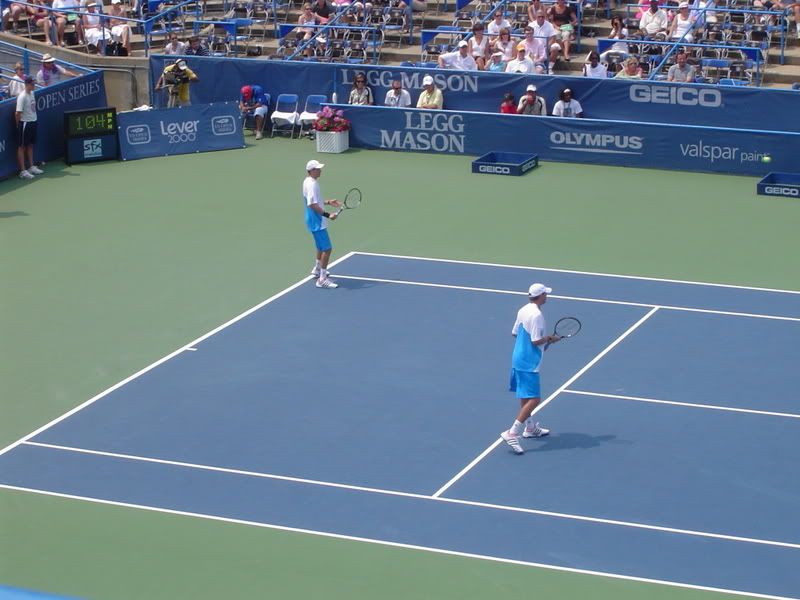 Ehrlich/Ram: