Not just the action, but also my skin! Ouch! I forget that I tend to fry during the noon sessions, there is no where to hide from the sun.
Well, except if you're under the canopy on the grandstand, which is actually where I started today. I figured Erlich and Ram would win their doubles match easily, and they did. I wanted to catch #2 seed Olga Savchuk play Alexa Glatch. It was a good match! Savchuk took it in three close sets, 4-6, 7-5, 7-5. These girls were smoking the ball! Savchuk started pulling out the drop shot in the second set. I only saw the first two sets, but a very entertaining match.
Savchuk: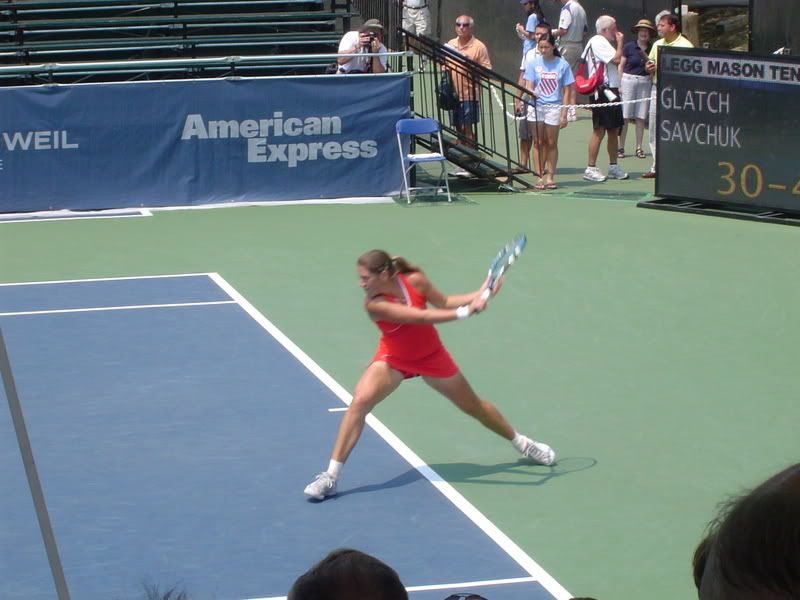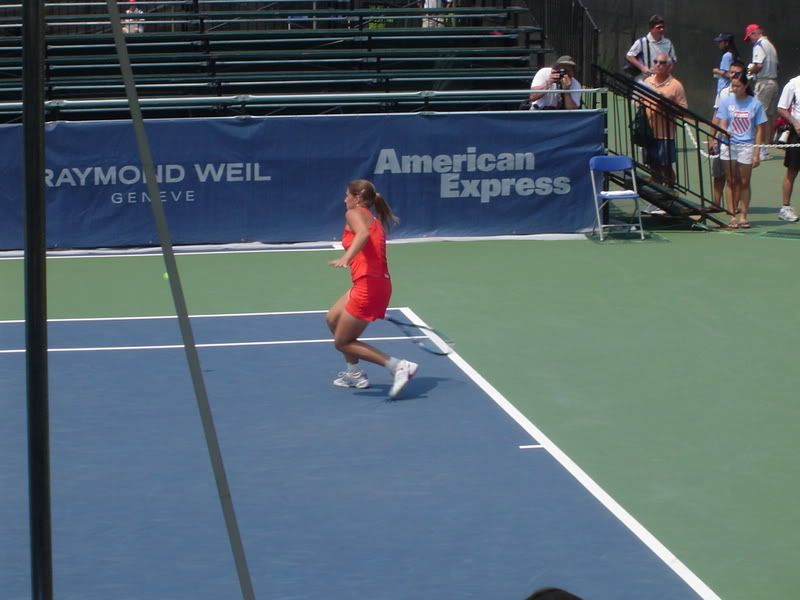 Glatch: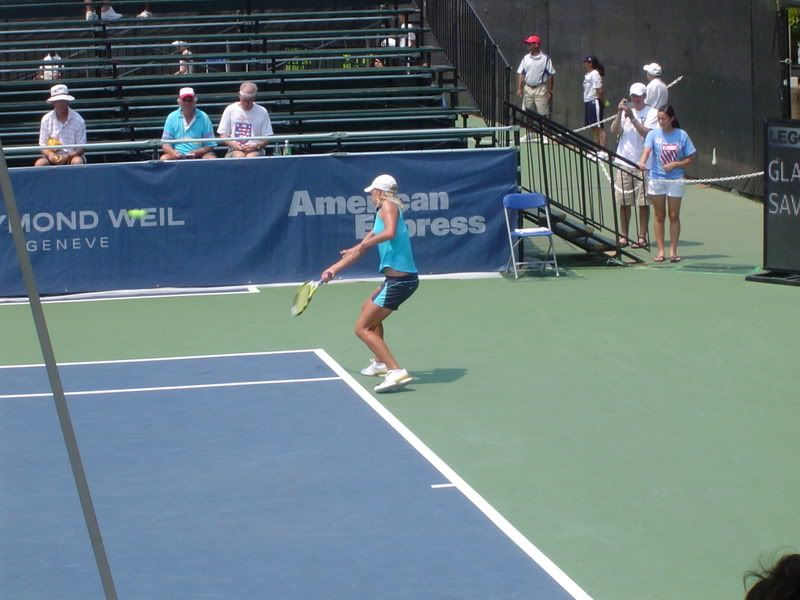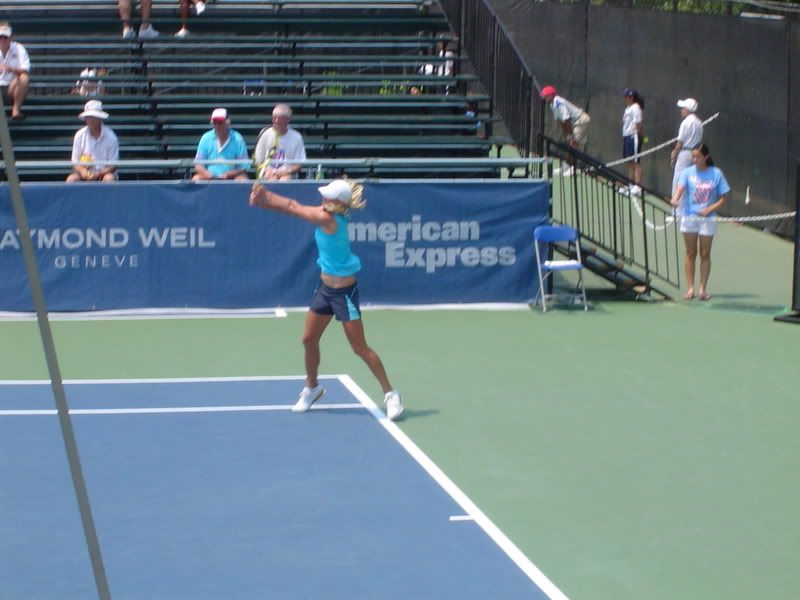 Other action on the women's pro circuit tourney saw #1 seed Aleksandra Wonziak go down to Melinda Czink, Kristina Brandi defeated #3 seed Jorgelina Cravero (I think she was the #3 seed), and #2 seed Casey Dellacqua defeated Viktoriya Kutuzova.
It was 2pm, time to see if John Isner could pull another 3 set victory out of...well, you know what! Tommy Haas was my pick to win the whole tourney, so you can imagine that I'm not too thrilled that Isner, the third set tiebreak specialist from Georgia, defeated the #2 seed.
My thoughts from today's match:
*It was really HOT!!! Next time--->sunblock!
*At first I thought Isner was actually going to win in 2 sets after he *finally* won a first set. But no...my hopes were dashed, but since I wanted Tommy to win, I wasn't too disappointed.
*Isner came out sharper than I've seen him in his previous matches. His volleys were better, and while he still did get wild on that forehand, it was much more controlled than previously. He had some 60some winners in this match. Haas played well, but if you've read his post match comments he nailed it right on the head...Haas had a few loose points, and that was it. Game, set, match, Isner.
Haas: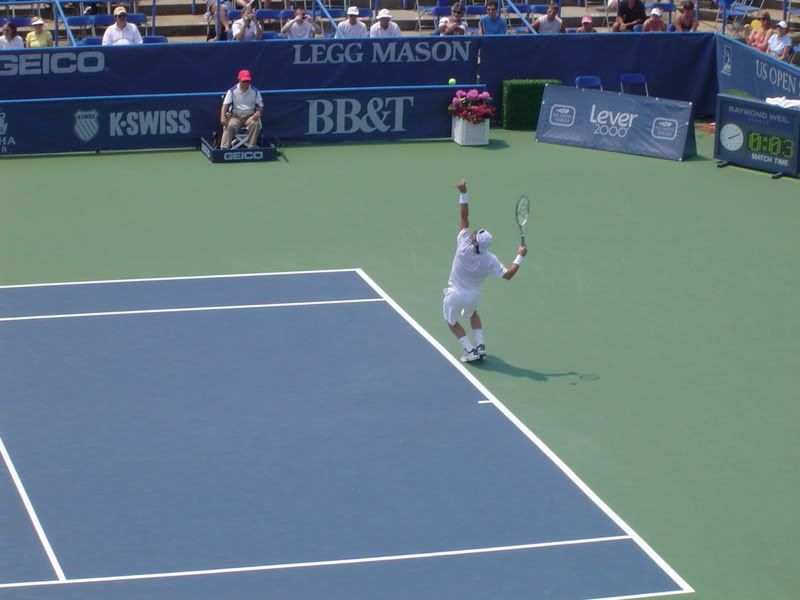 Isner:
Next up, Monfils and Safin. I like both of these guys, so I was just cheering for a good match. The first few games were pretty routine, then Monfils breaks Safin at 2-1. He held on to that break to win the first set 6-3.
At this point, I left for the next few games, 'cause I thought I was meeting up with fellow TTWers for a picture by the Mercedes, but it was called off and I didn't know. Oh well. I buzzed out to the box office to pick up a ticket for Sunday for a friend, grabbed a cheeseburger, and when I got back to my seat it was 4-all. The cheeseburger sucked...so gross I couldn't eat it, so be warned!!!
I got back just in time to see a point that had Monfils scrambling all over the place and Safin successfully hitting a between the legs shot. Great stuff!
At 5-all Monfils got one more break, and that was the match. Give credit to the youngster for not giving that break right back, as Safin was pressuring him in that last game.
Oh Safin. Aiy, aiy, aiy!
These next three pictures of Monfils were all taken during the same point: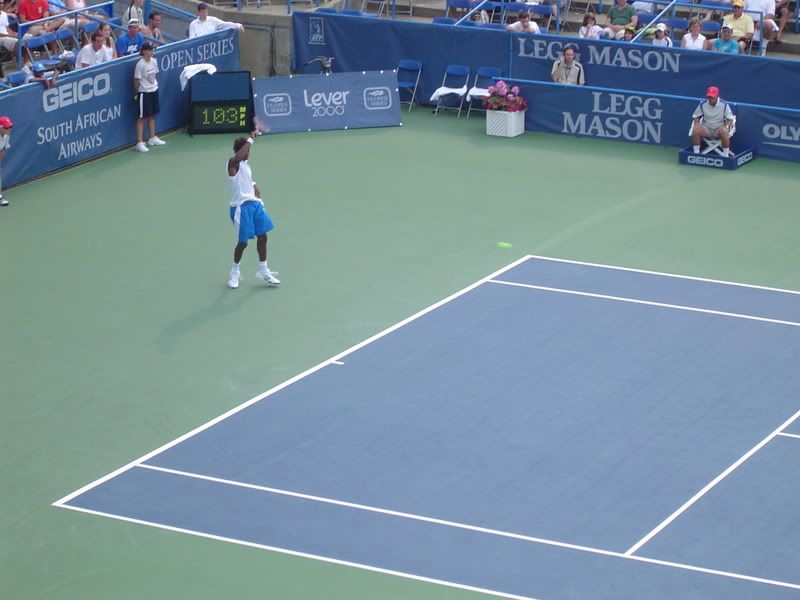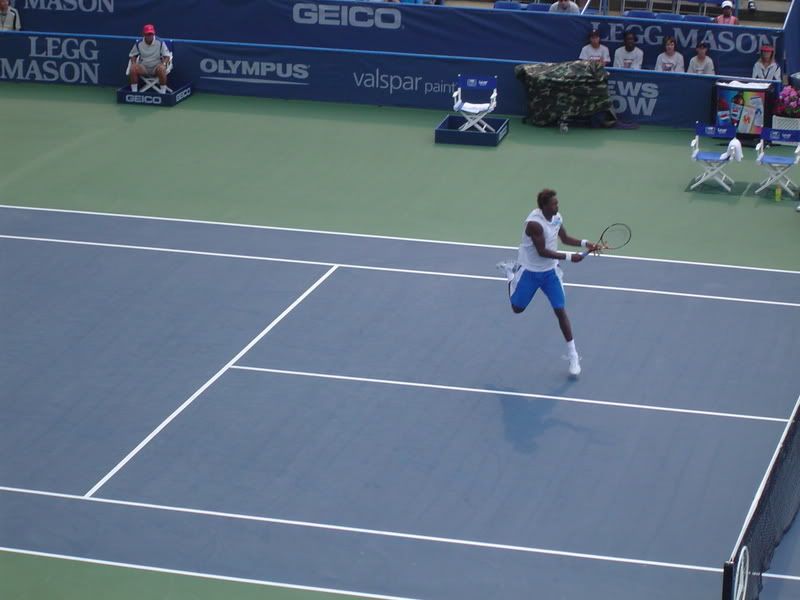 Safin wore the gold again:
Roddick and Lee was a pretty routine match for Roddick. Lots of big serving, and less brattiness than yesterday. I had expected more fight from Lee, but he was just missing a few too many times. I had two pictures from the match, but photobucket is being stupid, and not letting me finish uploading all my pictures.
The Bryan Bros. broke Moodie/Perry in the first game of the following doubles match, and I was having trouble keeping my eyes open, so I left.
Oh, and I did see just the very end of the Capdeville/Karlovic match. Well, 'see' is a stretch as I was craning my neck to see around people in front of me. So, no pictures there, but I think most of you already know Karlovic won in a third set tiebreak.