Day 6 started early for me, as I was at the complex at 3pm! A whole HOUR before matches start. I had some errands to run before I went there, and I guess I allowed too much time. Oh well, I walked around, looked in at the merchandise tent, and finally found a great spot on the grandstand that was not only in the shade, but at the top of the bleachers so I can watch two courts at once. Some players were out practicing, and actually, I have no idea who the guy was who was practicing on the grandstand, but behind me on court #2 was Julian Benneteau and a shirtless French guy who looked familiar, but I couldn't place him. Can you?
The first match scheduled for the grandstand was Dr. Ivo (Does anyone else hear Dolph Lundgren saying Drago from Rocky whatever when they read Ivo's name? Is that just me?) and my boy Vince! At court #2 was the women's #1 seed Aleksandra Wozniak and a Russian by the name of Maria Mokh.
Mokh started out strong with a 4-0 lead, but Wozniak stayed focused and came back to win the first set 6-4. Mokh then starting collapsing, arguing with calls and asking for the trainer. But she still lost the match. Incidentally, she doesn't sound Russian at all, especially when she accused a line judge of waiting until 'next week' to make a call.
Wozniak:
Mokh: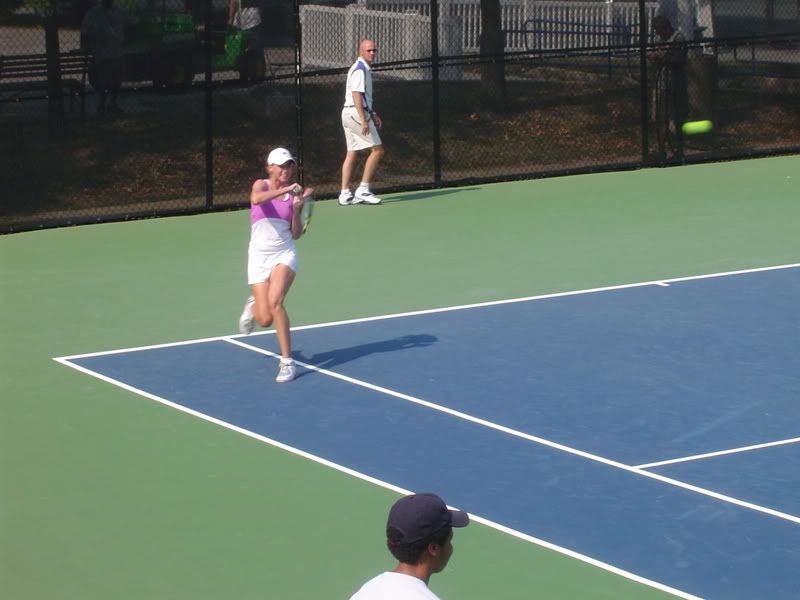 I was hoping for the same sharp, fighting Vince that I had seen play yesterday. But it is hard to hit the ball when you can't see it. Plus, I just don't think he was as sharp as I've seen him with his groundstrokes, and without those groundies, he had nothing to counteract Ivo's serve. Plus, Ivo has been hitting some blazing groundies himself, and is very quietly making his way through the draw...a very dangerous guy to play right now, for anyone!
After the match:
The match to follow was the hot ticket for a true tennis fan, and there were lots of them there today. The grandstand was *packed*!!! NCAA singles runner up John Isner (who got Gonzo's WC into LM) against American Wayne Odesnik, who made it through qualifying and then took out #10 seed Juan Martin del Potro yesterday. I saw that match, and I knew it was going to be a dog fight. Isner has the serve, but Wayne "the train" Odesnik is a lefty with dangerous groundstrokes that just does not give up! And he is in great physical shape, he never seems to look tired.
The first set was each boy taking care of his serve. This was to be expected of Isner, but Isner had trouble either reading or just getting his racket on Odesnik's serve as well. Odesnik took a lead in the first set tiebreak and wrapped it up on his serve.
The second set started out the same way, but very slowly you could tell the tide was turning. All of a sudden Isner's serve was just unbreakable, and he rarely missed a first serve. Odesnik, even with his great ground game, never would get a chance to use it. Isner also started coming to net more, and Odesnik was having to fight hard to hold his serve, while Isner was holding easily. The second set tiebreak was close, but Isner took it 7-5. The third set was more of the same. Great, great points, and Odesnik still had the upper hand if an actual rally got going. You have to give this guy credit for taking care of his serve and getting it done! However, you could tell that Isner was threatening him more and more each time, and when it came to tiebreak time, Isner rolled through it. Once he had the match on his raquet to serve out, we knew it was over.
A few thoughts on Isner:
*The boy sweats like you can NOT believe! It just pours off of him. He looks like he is ready to collapse, but don't buy it for a minute...this was his THIRD straight win with a third set tiebreak!
*If he is going to come to net so much, he has to learn how to handle the low volley. As to be expected with someone of his height, he doesn't bend well. However, it seemed Odesnik had trouble keeping the ball low, and his topspin would put the ball right where Isner wanted it too often.
*Somebody teach this guy how to win a first set!!!
I would love to see much more of BOTH of these guys on the tour...fantastic match!
Coin toss:
Isner serving to start the 3rd set tiebreak (his specialty):
Odesnik: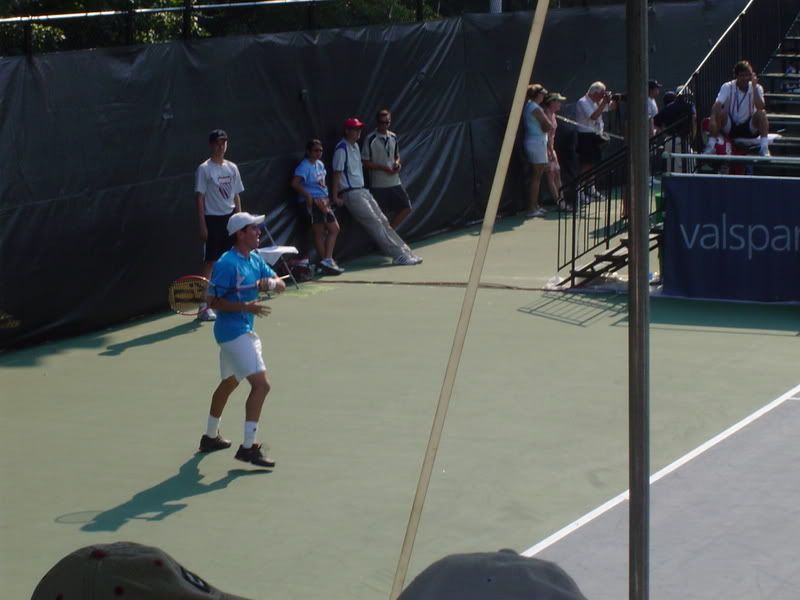 Meanwhile, on court #2 we had a battle of American women. Alexa Glatch, finally back on the court after a pretty bad injury (she had a scooter accident last November) was taking on Madison Brengle. The girls split sets with the same score 6-3, then Glatch got on a roll and wrapped on the third set pretty quickly. Lots of nice baseline rallies, not so much coming to the net...as to be expected.
Glatch:
Brengle: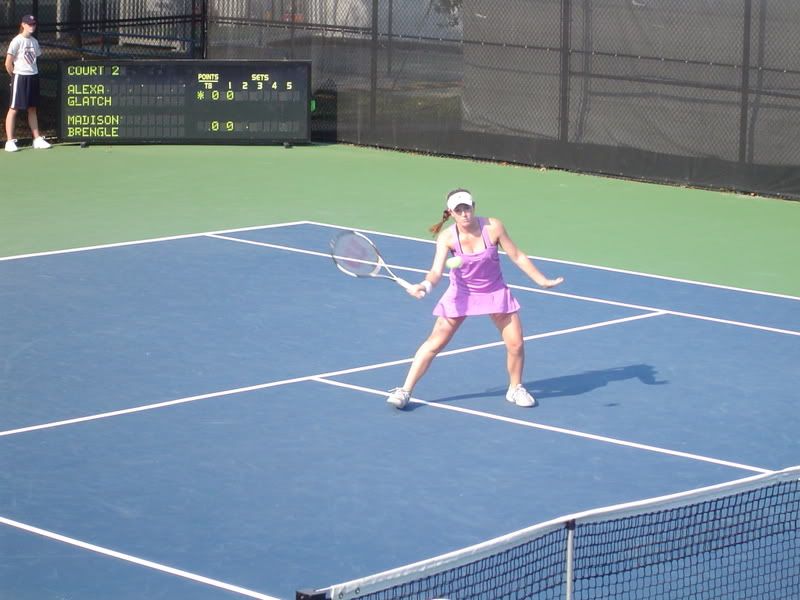 Isner and Odesnik were followed by Kristina Brandi and another American, Julie Ditty. I only know of Ditty's name because she played WTT. She is a lefty, and had some wicked shots, but Brandi had the answer, and took her in straight sets. The next women's match on court #2 was yet another young American, Krysty Marcio, against Argentinian Jorgelina Cravero. Cravero pretty much steam rolled Marcio.
This was also when Ivo was back on court with his doubles partner Chris Haggard, taking on Damm and Paes. My friend Sharon, who is the second oldest ballkid at LM, found me later and told me that Ivo/Haggard won the first set! I don't know what happened here, but I'm hoping that Leander and Martin pulled through! I really want to see them in the final against the Bryan Bros.
Ivo and Haggard:
It was finally time to go into the stadium and see what Roddick was up to. No good, apparently. He had already won the first set and was serving at 1-2 when he was broken. Stepanek was not only returning his serve, but returning it well. After that break Andy yelled 'F*ck' loud enough that I could make it out, and pretty much just moped his way through the rest of the second set. This is why I can't get completely behind him...he can be SUCH a brat on court! He also took a *blatant* time violation, making Stepanek wait a loooong time to serve at one point. All the chair did was shake his head at Andy. Whatever. If it were someone else, they would have gotten the warning.
Andy didn't play smart. I don't know if this is reflection of his actual intelligence or not, but if you are going to slice your BH and approach behind it, it needs to stay low. His slices sucked, and Stepanek was just teeing off on his passing shots.
Andy was lucky to win that third set. I still think Stepanek outplayed him. The crowd gave Stepanek a nice round of applause, and I hope he comes back to play DC again.
The hand shake:
And that brings us to Marat and Haase, or Marat jr. as I was starting to think of him. It was almost as if neither one really wanted to win the match. Actually, no, I take that back...but jeeeeeez! Duece on almost every game!!! Back and forth and back and forth and will someone just come to the net already!?!
Honestly, it was painful to watch, and after a few games in the second set, I split.
Safin in gold: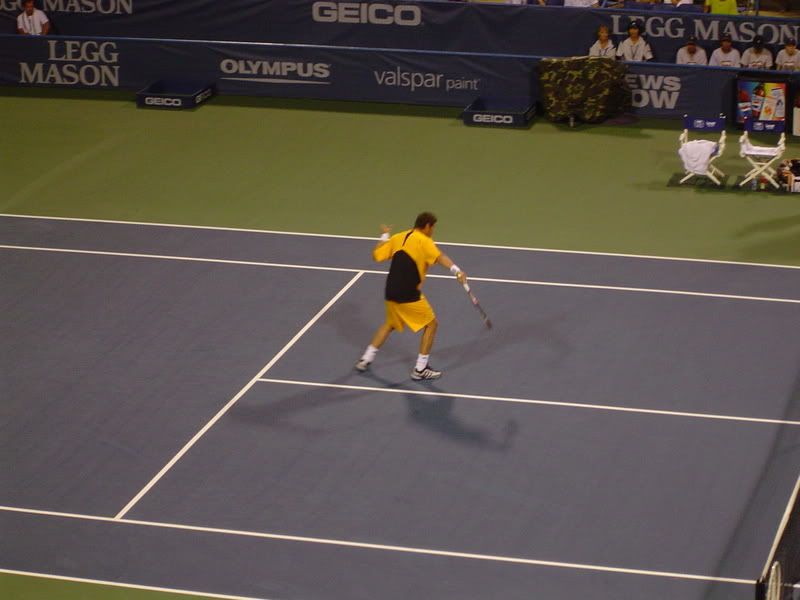 Haase: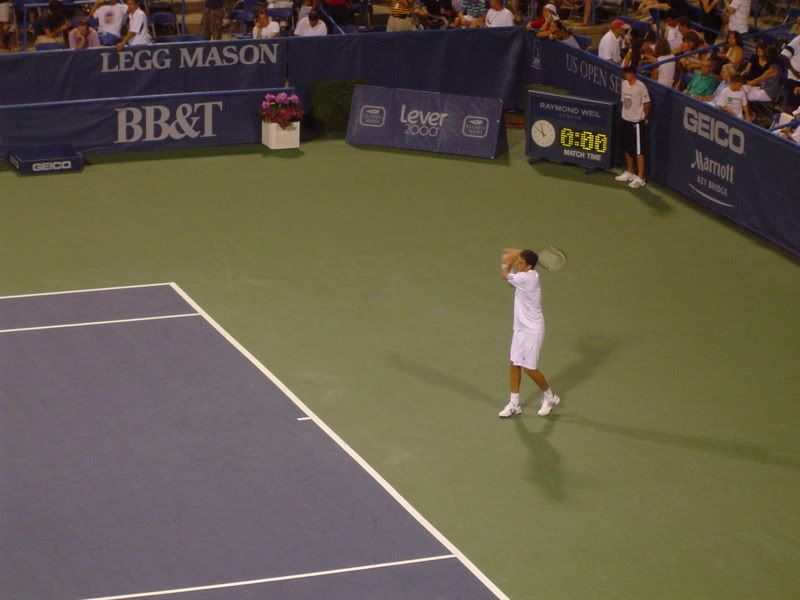 And...done!