If you're reading this, by now you probably already know what happened, as I'm posting this a day after the final. A quick wrap-up of the match:
*It went pretty much as expected. One break of serve by Roddick in the first set was all he needed to take it 6-4.
*Second set saw a few break points, but not any breaks, so it was decided in yet another tiebreak. Isner got robbed a bit here in my opinion, as a great return he hit off of Roddick's serve was called long. Isner challenged, and the return, which had handcuffed Roddick at the baseline, was good. Instead of awarding Isner the point and mini-break (which is what I think should have happened), the point was replayed with Roddick winning it. Personally, I believe that if Isner was more well known and had a bit of stink about it, it would have been his point. Roddick had no play on the ball. Instead, Roddick got the mini-break and won the tiebreak and match. Final score 6-4, 7-6.
More thoughts from me on the match:
*Isner was not as sharp as I'd seen him earlier this week. The best was against Haas and Monfils. Of course, with how much he played this week (and the week before, winning a challenger event in Lexington), can you blame the guy? Still, a respectable score against a top player for his first final.
*I'm not an Andy fan, but I think he did exactly what he had to do today. He played smart. There aren't many players that Andy can control from the baseline, but today Isner was one of them.
*I was reminded of how Federer netted an easy overhead earlier this year when Isner did the same thing.
*I wonder if Sam Querry is out there going...'Guys? Guys? Remember me?'
*I believe that his education is partly resposible for how well Isner has carried himself and competed this week. He has a maturity and experience gained from college that other players lack.
*It will be interesting to see how Isner develops from here. Will the new kid eventually be figured out?
*In the time between the doubles and singles, when the lines for water were insane, I ran into my ballkid friend, Sharon. 'Kid' is used quite liberally here! Anyway, she said Roddick is continually talking to himself on court, and is pretty much cursing the whole time. I sit in the second tier, and I could hear him clearly myself up there. Why the potty mouth? Lindsay was the same way! I wonder if, now that she's a mom, she'll still be a potty mouth? Anyway, I still can't get 100% behind Roddick because of his on court behavior. He's too much like spoiled brat out there.
*The ballkids are pretty much in agreement, however, that Safin was the 'quirkiest' player of the tournament as far as how particular he was regarding the balls and the towel.
The players enter the court:
The coin toss: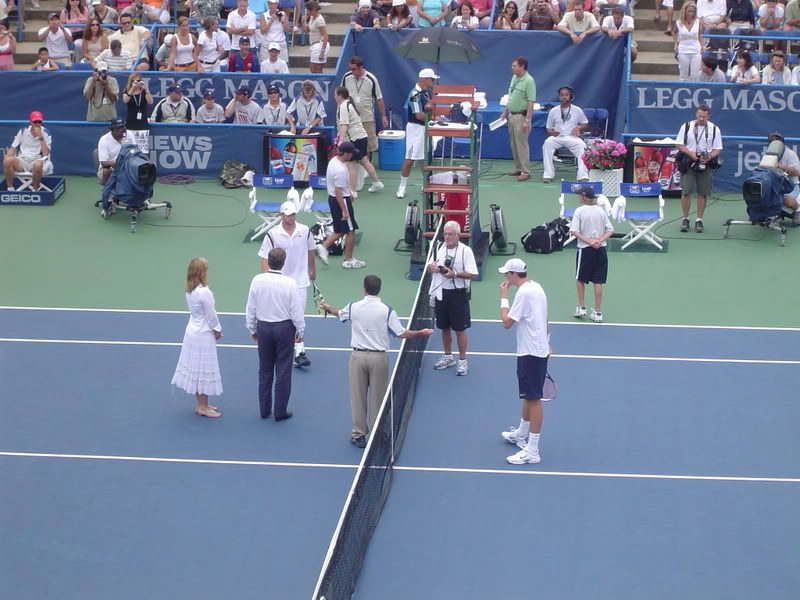 Isner: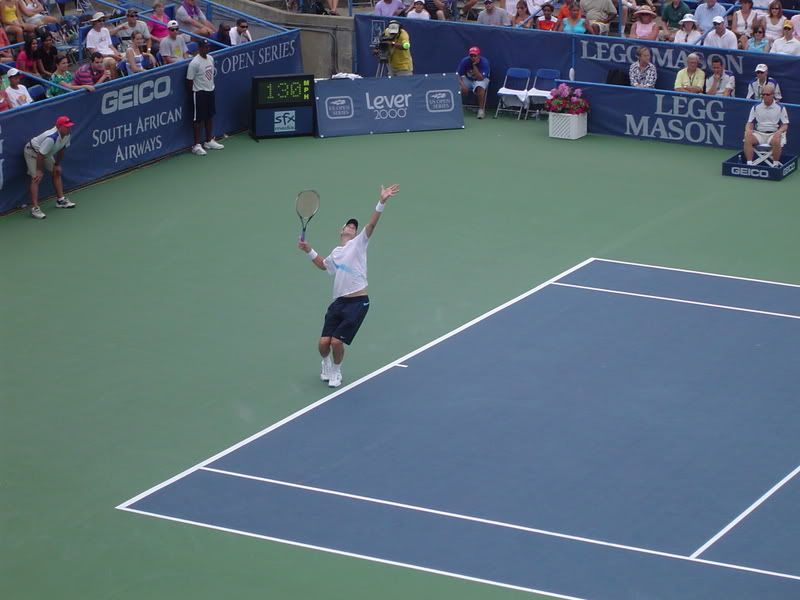 The infamous Isner box, which earned a few warnings during the Monfils semi-final:
Roddick: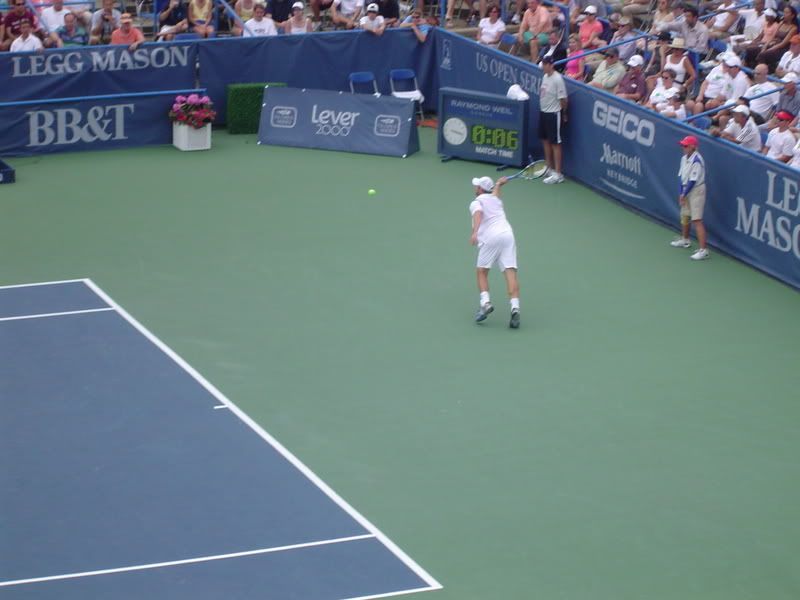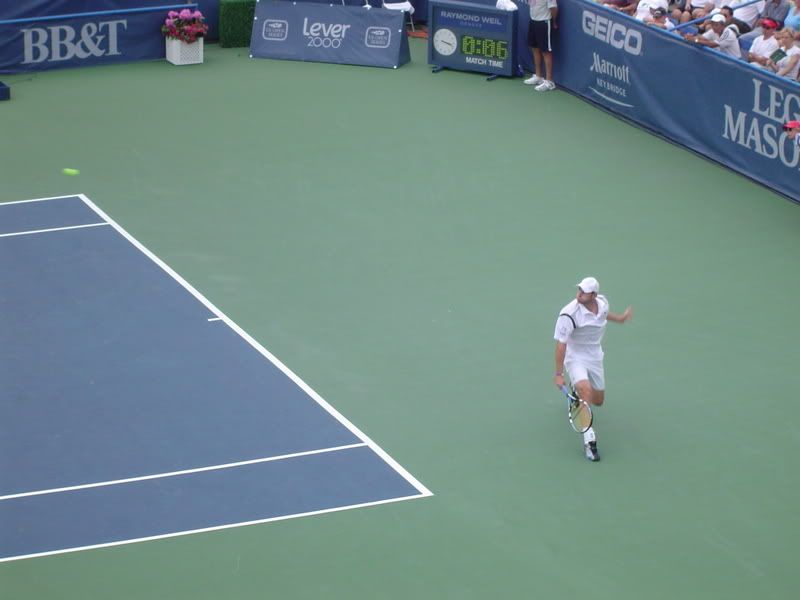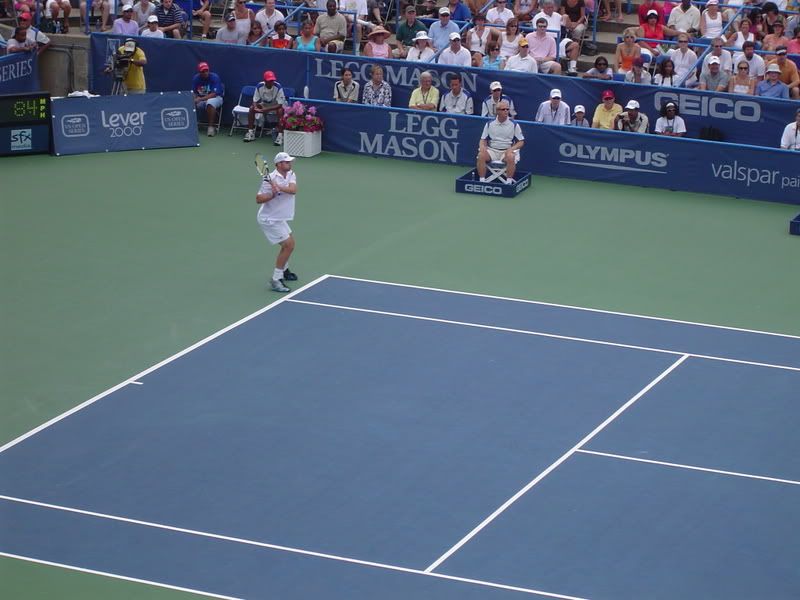 The hand shake: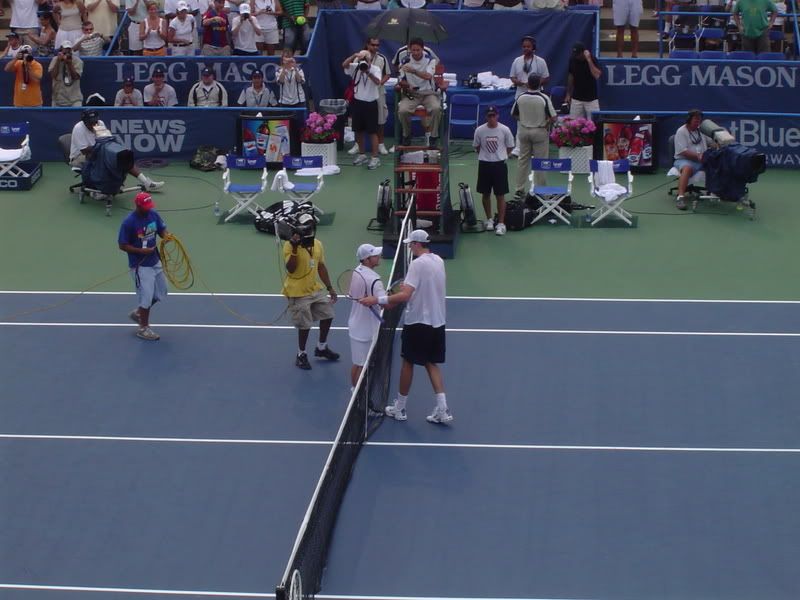 Isner is interviewd on court after the match:
Isner and his trophy: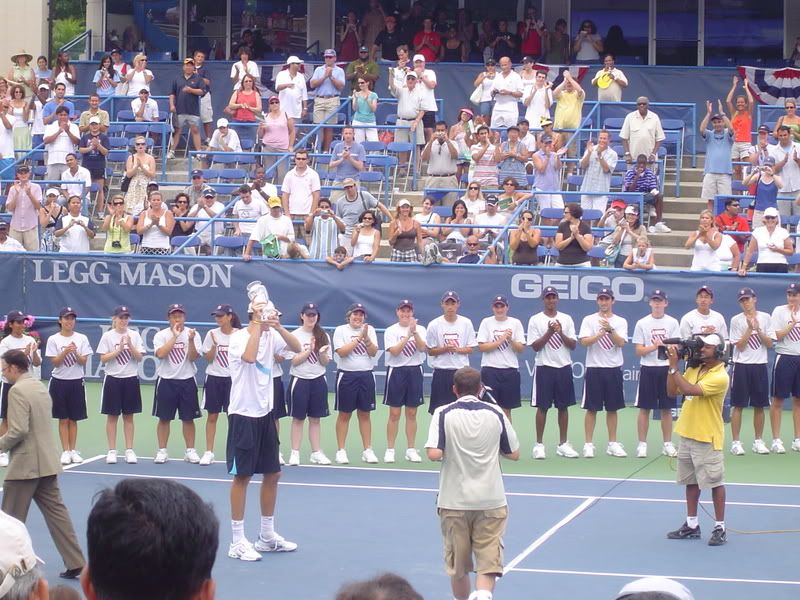 Roddick speaks:
Roddick and his trophy: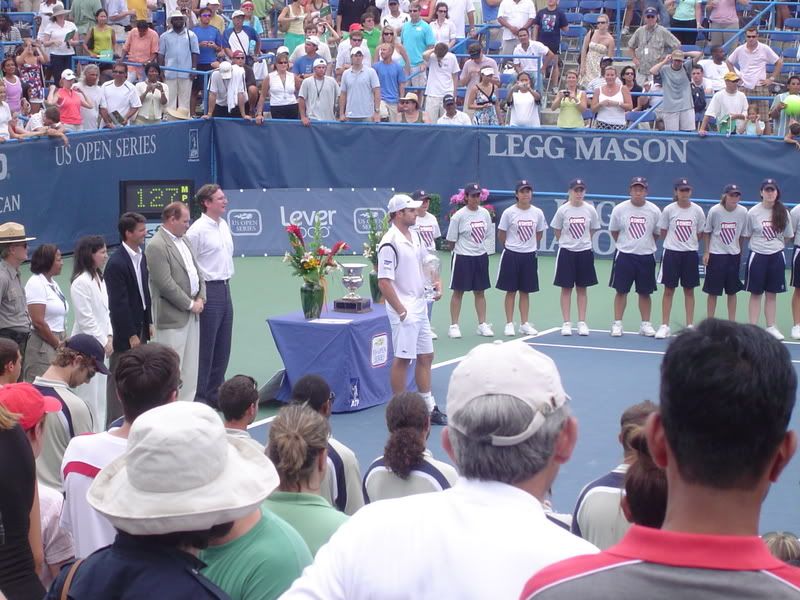 And that's a wrap on Legg Mason for me, folks. Same time, next year? Maybe...there is a possibility I may be in Europe this time next year. Also, the Bryan's said something in their speech about how the Olympics are this time next year, so it will be interesting to see how that impacts the tournament. Most likely, we would get to see players that we don't normally see, which I really like!